GUITAR LESSONS – THE MUSIC
The teacher is involved musically, he plays and participates with the student to value him/her but does not use him/her to train…

With respect to two or three students instrumental lessons, it is important for a homogeneous lesson that students possess the same level, the same progression, about the same age, and a common goal. Depending on the possibilities of the organization, these lessons can be organized only if students are compatible.
That's why we invite people who want to participate in a group lesson and who have not found solutions, to start with an individual lesson of half an hour so that the teacher can assess the student's level and thus group together with students of equivalent level, purpose, and age.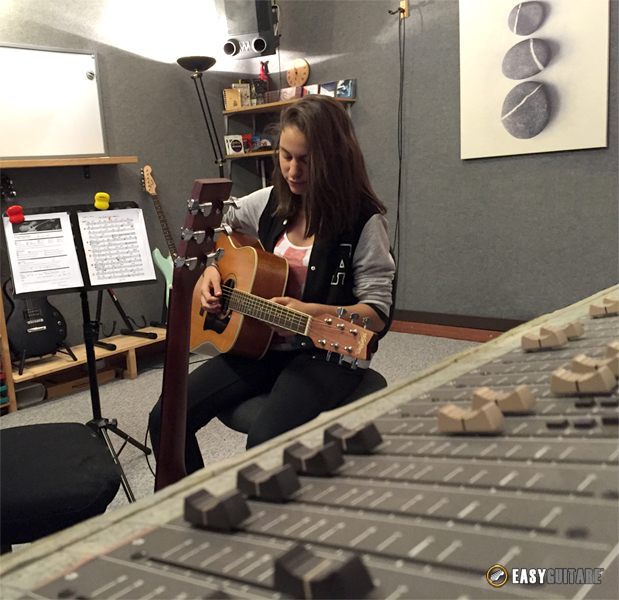 INDIVIDUAL GUITAR LESSONS
Private lesson based on the three teaching methods "Fun and Discovery, Discovery and Mastery, Career". Including rhythmic development, postural coaching and musical equipment advice. Depending on the method chosen, the lesson may include all the following lessons. 
GUITAR LESSON OF TWO AND MORE STUDENTS 
Lesson for several students of the same type as the private class. 
LESSON OF MUSIC THEORY AND RHYTHMIC DEVELOPMENT
Specialized lesson on rhythm, program of oral sight reading rhythmic understanding and play it, as well as fun rhythm development, on the instrument. 
INTERPRETATION AND IMPROVISATION LESSONS
Advanced lesson based on the course on harmony and improvisation techniques. Here we do not learn, we know theories and we only apply them. Rapid analysis and choice of concept to improvise and interpret correctly. 
LESSON ON HARMONY AND IMPROVISATION TECHNIQUES
Comprehensive and specialized lesson on harmony theory. Analysis of music, melodies and improvisations. Improvisation concepts according to the style of music.  
Musical interpretations of contemporary music styles. This lesson is based on jazz but does not exclude other styles of music, on the contrary, we combine the study of jazz and its favorite styles. 
This lesson requires the knowledge and basic skills of the instrument. 
MUSIC LIVE PLAYING WORKSHOPS (minimum three students) 
Here we already have enough skills to have fun. You learn to play in a band in a chosen style. The teacher also plays and fully participates in the workshop. 
It helps with the interpretation, the mix between the instruments and the way of playing within a band.